Supports Skin Health and Helps Maintain A Normal Histamine Level in Dogs & Cats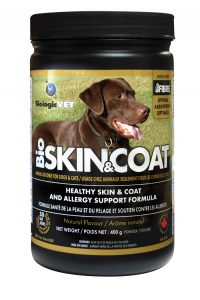 Healthy Skin, Coat and Allergy Support
BioSKIN&COAT is a natural, bioflavonoid based antihistamine that targets histamine receptors—where the central allergy response takes place. BioSKIN&COAT is developed to promote skin and coat health by supporting normal immune system and histamine response to allergens. Added to an organic, whole food, seed-cake to optimize palatability and nutrient bioavailability,
GMO-Free BioSKIN&COAT was designed specifically for the canine and feline metabolism and gastrointestinal tract, with biologically active ingredients that have not been exposed to oxidation.
Does not contain any artificial: flavours, colours or binders.
Buy Local
Purchase our wellness products from your local retailer
Buy Online
Purchase our wellness products directly from BiologicVET
Dogs and Cats, of any age, with a predisposition to seasonal allergies
Dogs and Cats showing signs of hotspots and/ or yeast overgrowth
Preventive measures in cats or dogs
Supports healthy immune response
Maintains healthy inflammatory response
Provides antioxidants to help reduce the oxidative damage from free radicals
For Optimal Results
BioSKIN&COAT works synergistically with our Nutritional Foundation Products BioVITES and BioFATS, a canine-complete precise ratio of essential Omega-6 and Omega-3 fatty acids with DHA and EPA.
Helps optimize, nourish, protect and support general health including skin and coat health.
Flax, Sunflower & Sesame Seed Fibre
Lignan-rich blend that encourages nutrient absorption from supplements and food, and functions as a hormonal support for spayed and neutered pets
MSM (Methylsulfonylmethane)
Anti-inflammatory and analgesic properties, helps flush toxins and allergens from cells
Quercetin
Regulates histamine production, promotes healthy immune response to allergies
Grape Seed & Ginkgo Biloba extract
Antioxidants that support oxidative damage of free radicals and regulate inflammatory reaction
MEDICINAL INGREDIENTS PER SCOOP (5 g)
Methylsulfonylmethane (MSM)
125
mg
Quercetin dihydrate (Styphnolobium japonicum)
100
mg
Vitis vinifera (grapeseed extract: 120:1)
Equivalent to: 5 400 mg grape seed


Standardized to: 95% proanthocyanidins

45
mg
Ginkgo biloba (gingko, leaf extract: 50:1)
Equivalent to: 1500 mg Ginkgo biloba
Standardized to: 24% flavonoid glycosides


6% terpene lactones

30
mg
L-Cystine
25
mg
Pancrelipase (porcine, pancreas)
Standardized to contain:
Lipase (8 USP/mg) equivalent to: 160 USP
Amylase (50 USP/mg) equivalent to: 1 000 USP


Protease (50 USP/mg) equivalent to: 1 000 USP

20
mg
Papain (Carica papaya, fruit) (30 000 USP)

15
mg
Protease (Aspergillus oryzæ) (50 HUT)

10
mg
Vitamin C (ascorbic acid)
3.5
mg
Zinc (gluconate)
100
mcg
Biotin
1
mcg
NON-MEDICINAL INGREDIENTS: Certified organic seed cake defatted meal (Flax, Sunflower, Sesame), Silicon dioxide, Vitamin E (d-alpha tocopheryl succinate)
GMO-Free
CAUTIONS: Do not exceed the recommended dose. Give orally on a full stomach. Not for long term use.*
CONTRAINDICATIONS: Not for use in: pregnant or lactating animals; animals with bleeding disorders, diabetes, pancreatic insufficiency, gastrointestinal ulcers; animals on anticoagulant (blood thinning) medications; or prior to surgery/dental procedures.
What does 'not for long-term use' mean?
This purposely vague description is neither clearly defined nor is it a fixed duration of time. It may include a time frame of several days, weeks, months or even years. Health Canada requires the use of this statement on our labels as part of the Interim Notification Program (The Program) for Low-Risk Veterinary Health Products (LRVHP). This statement is summoned when certain ingredients are present in a product, such as enzymes or various herbal extracts. In BioSKIN&COAT it is the Quercetin that requires the statement.
Dietary supplements, such as BiologicVET's, are quite safe to take every day. However, it is best to keep in mind that the long-term use of any supplement should be discussed with your trusted veterinarian. They will help evaluate and assess the pros and cons of supplementation based on your animal companion's unique and individual needs.
DIRECTIONS FOR USE
Administer orally. Mix one half scoop (2.5 g) per 4.5 kg (10 lb) of body weight to a maximum of 6 scoops daily. Add to raw, moist or dry food. If desired, add water to make a gravy-like paste. For best results, divide between two meals.
Scoop included. 1 Scoop = 1 TBSP
| Weight | Daily Serving (scoop) | 200g Supply (days) | 400g Supply (days) | 1600g Supply (days) |
| --- | --- | --- | --- | --- |
| 10 lb (4.5 kg) | 1/2 | 80 | 160 | 640 |
| 20 lb (9.0 kg) | 1 | 40 | 80 | 320 |
| 30 lb (13.5 kg ) | 1 1/2 | 27 | 53 | 212 |
| 40 lb (18.0 kg) | 2 | 20 | 40 | 160 |
| 50 lb (22.5 kg ) | 2 1/2 | 16 | 32 | 128 |
| 60 lb (27.0 kg ) | 3 | 13 | 27 | 106 |
| 70 lb (31.5 kg) | 3 1/2 | 11 | 23 | 92 |
| 80 lb (36.0 kg ) | 4 | 10 | 20 | 80 |
| 90 lb (40.5 kg) | 4 1/2 | 9 | 18 | 71 |
| 100 lb (45.0 kg) | 5 | 8 | 16 | 64 |
| 110 lb (49.5 kg) | 5 1/2 | 7 | 14 | 58 |
| 120 lb (54.0 kg) | 6 | 6 | 13 | 53 |
NN.9FQ3   Low Risk Veterinary Product (LRVHP) 
Interim Notification Program 
This program is a temporary measure pending the amendment of the Food and Drug Regulations to improve the regulation of low risk veterinarian products (LRVHPs). The INP applies to LRVHPs for sale in Canada that are for use in cats, dogs, and horses that are not intended for food. An LRVHP may only contain substances that are included on the List of Substances, including homeopathic medicines, botanicals, vitamins, minerals, fungi, bacteria, etc.
Companies apply to the INP to obtain a Notification Number (NN). A third party administrative organization reviews the ingredients and the content of the product and label. Upon the satisfaction of the established requirements, a Notification Number (NN) is issued. Participation in the INP is voluntary. Given the INP safeguards, Health Canada considers it unlikely that a product satisfying all applicable requirements could present a significant risk to the health of humans or animals.
https://www.lrvhp.ca/public/docs
Low Risk Veterinary Health Products List of Substances 
The List of Substances (The List) includes substances that have been evaluated as admissible or non-admissible. Admissible substances are substances determined to represent a low risk when used appropriately and according to certain conditions such as route of administration, quantity or duration of use, and in doses at generally accepted safe and effective levels that are supported by available literature. Health Canada considers it unlikely that a product containing only admissible substances and that satisfies all other applicable requirements could present a significant risk to the health of humans or animals. Substances that have been altered through biotechnology and/or intended for use in food producing animals (such as cows, swine and poultry) have not been considered and are excluded from the List of Substances.
https://www.lrvhp.ca/subview/list
LRVHP GMP Guidelines – Good Manufacturing Practices 
This document is intended to provide guidance on the Good Manufacturing Practices (GMP) requirements for a Low Risk Veterinary Product eligible for Notification. The following link is a list of GMP requirements to manufacturers, packagers, labelers, importers or distributors, as the case may be. These requiremets are quite similar to the requirements applicable to Natural Health Products used in humans.
https://www.lrvhp.ca/files/docs/Eng-GMP.2012-03-26.pdfs
BioFIBRE Delivery System—Nutrition Facts 
The delivery system of BioSKIN&COAT is a certified organic blend of defatted flax, sunflower and sesame seed providing the good bacteria in the intestinal tract of the dog or cat a valuble prebiotic food source to improve their immune system. This fibre also supplies plant estrogens called lignans that the good bacteria convert into mammalian estrogens balancing hormone function in the dog and cat especially when they have been spayed or neutered.
Each scoop (1 tbsp) will provide at minimum 20 mg of lignans, enough for the Vet recommended amount of 1 mg of lignan per lb of pet weight. By improving the intestinal tract function, immune system, and hormonal function of the dog or cat there is better absorption of the nutrients from the formula as well as from the food they are eating allowing the BioSKIN&COAT formula to begin to work in a very short time.
1 Scoop = 1 TBSP
Nutrition Facts
BioSKIN&COAT
per 1 scoop
Units
Calories
20.79
cal
Fat
0.94
g

Saturated Fat

0.10
g

Trans Fat

0.0
g

Polyunsaturated Fat

0.66
g

Monounsaturated Fat

0.18
g
Cholesterol
0.0
mg
Sodium
2.53
mg
Carbohydrate
1.32
g

Fibre

1.19
g
Protein
1.77
g
Vitamin A
0.0
IU
Vitamin C
0.0
mg
Calcium
16.40
mg
Iron
0.42
mg
Lignans
20.48
mg
Two big reasons I recommend BiologicVET Dogs need Manganese and Fibre! I take pride in giving my dogs the best quality of life with health being a huge priority. I have searched for the best supplements. Using BiologicVET BioVITES (containing Manganese and Fibre) and BiologicVET BioSKIN&COAT I've seen tremendous results and highly recommend these products. I'm going to add their BioFATS formula as well. If you are looking for a quality product that will benefit your pet, you found it with BiologicVET! We all love our pets as they are our family members. I want to give them the best as I do that for myself and the rest of my family. Hope this helps when you are looking for any additives for your pet.
Lane Camplair