Helps Maintain General Health of All Ages and Breeds of Dogs and Cats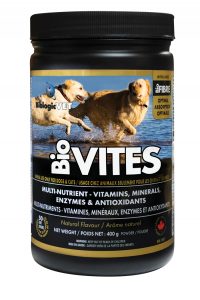 Multi-Nutrient – Vitamins, Minerals, Enzymes & Antioxidants
BioVITES  is a holistic, nutritional supplement that provides a full spectrum of vitamins, minerals, enzymes, prebiotics, lignans, protein, amino acids, and antioxidants; when used regularly, helps to normalize digestion, absorption and metabolism that are important for immune function and general health.
This daily supplement is formulated to support your pet's immune system and to encourage the most effective delivery of nutrients, maintain nutrient density, feed efficiency and help maintain general health at every stage of your pet's life. Contains pancrelipase that hydrolyzes triglycerides; protease and bromelain that hydrolyzes protein.
Does not contain artificial: flavours, colours, preservatives or binders.
Buy Local
Purchase our wellness products from your local retailer
Buy Online
Purchase our wellness products directly from BiologicVET
Dogs and cats, of any age; active to not-so-active
Use with any preferred brand or style of pet food (raw, dry or moist)
Supports healthy development and maintenance
Increases the nutrient density of each meal
Encourages optimal nutrient delivery and absorption
For Optimal Results
it is recommended to use BioVITES and BioFATS together for maximum health support..
Flax, Sunflower & Sesame Seed Fibre
Lignan-rich blend that encourages nutrient absorption from supplements and food, and functions as a hormonal support for spayed and neutered pets
Vitamins, Minerals & Enzymes
Holistic nutrition that promotes and maintains whole body health and wellness (e.g. digestion, nutrient absorption, metabolism, etc.)
Amino Acids & Antioxidants
Support healthy vision; heart, brain and immune function and encourage healthy metabolism
Enzymes
Support healthy digestion and efficient nutrient absorption
Did you know? Many health problems can benefit from a balanced diet and daily nutritional support. BioVITES mixes completely with your pet's preferred food, and works together with BioFATS for a no-hassle, heaping dose of goodness.
MEDICINAL INGREDIENTS PER SCOOP (5g)
Whey protein concentrate
1430
mg
Calcium (carbonate)
30
mg
Magnesium (bisglycinate)
25
mg
Polyphenols (camelliea sinensis, leaf extract)
20
mg
L-Taurine
15
mg
Vitamin E (d-alpha tocopheryl acetate, Glycine max) (20IU)

13.4
mg AT
Bromelain (24 GDU)
10
mg
DL-Methionine
4
mg
Inositol
4
mg
Potassium (chloride)
4
mg
Manganese (HVP* chelate)
3
mg
Protease (Aspergillus oryzæ) (15HUT)
3
mg
Vitamin C (ascorbic acid)
3
mg
Thiamine (vitamin B1, hydrochloride)
2
mg
Riboflavin (vitamin B2)
2
mg
Niacinamide (vitamin B3)
2
mg
Vitamin B6 (pyridoxine hydrochloride)
2
mg
Pancrelipase (porcine, pancreas)
Standardized to contain:
Lipase (8 USP/mg) equivalent to: 16 USP
Amylase (50 USP/mg) equivalent to: 100 USP


Protease (50 USP/mg) equivalent to: 100 USP

2
mg
Choline (bitartrate)
1.6
mg
Zinc (bisglycinate)
1.3
mg
D-Pantothenic acid (vitamin B5)
1
mg
Fucus vesiculosus (kelp, whole plant)
1
mg
Molybdenum (HVP* chelate)
0.6
mg
Iron (bisglycinate)
0.3
mg
Copper (bisglycinate)
0.1
mg
Vitamin A (palmitate)(180 IU)
54.05
mcg
Chromium (picolinate)
15
mcg
Folate (folic acid)
10
mcg
Beta-carotene (10 IU)
6
mcg
Selenium (HVP* chelate)
5
mcg
Vitamin B12 (cyanocobalamin)
2
mcg
Iodine (kelp, laminariales)
2.5
mcg
Biotin
1
mcg
Vitamin D3 (cholecalciferol) (12 IU)
0.3
mcg
*HVP—Hydrolysed Vegetable Protein
NON-MEDICINAL INGREDIENTS: Certified organic seed cake defatted meal (flax, sunflower, sesame), silicon dioxide, betaine
CAUTIONS: Do not exceed the recommended dose. For long-term use consult a veterinarian.*
CONTRAINDICATIONS: Do not use in certain dog breeds predisposed to copper toxicity. Not for use in pregnant or lactating animals, animals with diabetes or pancreatic insufficiency, hyperthyroid conditions, stomach ulcers, liver disease, kidney disease or bleeding disorders.
What does 'not for long-term use' mean?
This purposely vague description is neither clearly defined nor is it a fixed duration of time. It may include a time frame of several days, weeks, months or even years. Health Canada requires the use of this statement on our labels as part of the Interim Notification Program (The Program) for Low-Risk Veterinary Health Products (LRVHP). This statement is summoned when certain ingredients are present in a product, such as enzymes or various herbal extracts. In BioVITES it is the Bromelain that requires the statement.
Dietary supplements, such as BiologicVET's, are quite safe to take every day. However, it is best to keep in mind that the long-term use of any supplement should be discussed with your trusted veterinarian. They will help evaluate and assess the pros and cons of supplementation based on your animal companion's unique and individual needs.
DIRECTIONS FOR USE
Administer orally. Mix one half scoop (2.5 g) per 4.5 kg (10 lb) of body weight to a maximum of 6 scoops daily. Add to raw, moist or dry food. If desired, add water to make a gravy-like paste. For best results, divide between two meals.
Scoop included. 1 Scoop = 1 TBSP
| Weight | Daily Serving (scoop) | 200g Supply (days) | 400g Supply (days) | 1600g Supply (days) |
| --- | --- | --- | --- | --- |
| 5 lb (2.25 kg) | 1/4 | 160 | 320 | |
| 10 lb (4.5 kg) | 1/2 | 80 | 160 | 640 |
| 20 lb (9.0 kg) | 1 | 40 | 80 | 320 |
| 30 lb (13.5 kg ) | 1 1/2 | 27 | 53 | 212 |
| 40 lb (18.0 kg) | 2 | 20 | 40 | 160 |
| 50 lb (22.5 kg ) | 2 1/2 | 16 | 32 | 128 |
| 60 lb (27.0 kg ) | 3 | 13 | 27 | 106 |
| 70 lb (31.5 kg) | 3 1/2 | 11 | 23 | 92 |
| 80 lb (36.0 kg ) | 4 | 10 | 20 | 80 |
| 90 lb (40.5 kg) | 4 1/2 | 9 | 18 | 71 |
| 100 lb (45.0 kg) | 5 | 8 | 16 | 64 |
| 110 lb (49.5 kg) | 5 1/2 | 7 | 14 | 58 |
| 120 lb (54.0 kg) | 6 | 6 | 13 | 53 |
NN.F3A7   Low Risk Veterinary Product (LRVHP) 
Interim Notification Program 
This program is a temporary measure pending the amendment of the Food and Drug Regulations to improve the regulation of low risk veterinarian products (LRVHPs). The INP applies to LRVHPs for sale in Canada that are for use in cats, dogs, and horses that are not intended for food. An LRVHP may only contain substances that are included on the List of Substances, including homeopathic medicines, botanicals, vitamins, minerals, fungi, bacteria, etc.
Companies apply to the INP to obtain a Notification Number (NN). A third party administrative organization reviews the ingredients and the content of the product and label. Upon the satisfaction of the established requirements, a Notification Number (NN) is issued. Participation in the INP is voluntary. Given the INP safeguards, Health Canada considers it unlikely that a product satisfying all applicable requirements could present a significant risk to the health of humans or animals.
https://www.lrvhp.ca/public/docs
Low Risk Veterinary Health Products List of Substances 
The List of Substances (The List) includes substances that have been evaluated as admissible or non-admissible. Admissible substances are substances determined to represent a low risk when used appropriately and according to certain conditions such as route of administration, quantity or duration of use, and in doses at generally accepted safe and effective levels that are supported by available literature. Health Canada considers it unlikely that a product containing only admissible substances and that satisfies all other applicable requirements could present a significant risk to the health of humans or animals. Substances that have been altered through biotechnology and/or intended for use in food producing animals (such as cows, swine and poultry) have not been considered and are excluded from the List of Substances.
https://www.lrvhp.ca/subview/list
LRVHP GMP Guidelines – Good Manufacturing Practices 
This document is intended to provide guidance on the Good Manufacturing Practices (GMP) requirements for a Low Risk Veterinary Product eligible for Notification. The following link is a list of GMP requirements to manufacturers, packagers, labelers, importers or distributors, as the case may be. These requiremets are quite similar to the requirements applicable to Natural Health Products used in humans.
https://www.lrvhp.ca/files/docs/Eng-GMP.2012-03-26.pdfs
BioFIBRE Delivery System—Nutrition Facts 
The delivery system of BioVITES is a certified organic blend of defatted flax, sunflower and sesame seed providing the good bacteria in the intestinal tract of the dog or cat a valuble prebiotic food source to improve their immune system. This fibre also supplies plant estrogens called lignans that the good bacteria convert into mammalian estrogens balancing hormone function in the dog and cat especially when they have been spayed or neutered.
Each scoop (1 tbsp) will provide at minimum 14 mg of lignans. The Vet recommended amount is 1 mg of lignan per lb of pet weight. By improving the intestinal tract function, immune system, and hormonal function of the dog or cat there is better absorption of the nutrients from the formula as well as from the food they are eating allowing the BioVITES formula to begin to work in a very short time.
1 Scoop = 1 TBSP
Nutrition Facts
BioVITES
per 1 scoop
Units
Calories
13.71
cal
Fat
0.62
g

Saturated Fat

0.07
g

Trans Fat

0.0
g

Polyunsaturated Fat

0.43
g

Monounsaturated Fat

0.12
g
Cholesterol
0.0
mg
Sodium
1.67
mg
Carbohydrate
0.87
g

Fibre

.79
g
Protein
1.17
g
Vitamin A
0.0
IU
Vitamin C
0.0
mg
Calcium
10.81
mg
Iron
0.28
mg
Lignans
13.50
mg
For years, I have been using BioVITES for my Bouvier, General. He came to me with smelly, runny poop as a young dog, but was otherwise healthy. Changing his diet didn't help but adding digestive enzymes helped immediately. Bouviers are famous for their excessive flatulence but he doesn't have that problem.
General is now 8 and still bounces around like a puppy, thanks to BioVITES and more recently, BioFATS.
Pat Jarvis