Active Performance Support Formula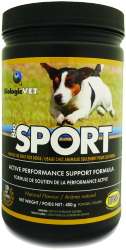 Enhances Strength, Agility, and Speed for Competitive, Athletic and Working dogs
BioSPORT is a unique blend of ingredients that, when used regularly, are known to support muscles, joints and metabolism for training and performance. Ideal for active, working, athletic and sporting animals. Formulated to support normal muscle and joint health after strenuous training and competition.
GMO-Free BioSPORT helps replenish nutrients that have been spent during exercise, supporting a healthy healing process and immune function.
Does not contain artificial: flavours, colours, preservatives or binders.
Buy Local
Purchase our wellness products from your local retailer
Buy Online
Purchase our wellness products directly from BiologicVET
Competitive athletic, working and hunting dogs
Dogs who expend large amounts of physical energy
Dogs who could benefit from muscle and joint repair
Supports normal muscle and joint health after strenuous exercise
Maintains healthy inflammatory response
Provides connective tissue support
Maintains healthy muscles
For Optimal Results
Using BioSPORT in combination with BioFATS. provides support to your dog's immune system in the regulation of inflammatory response and promotes healthy recovery after exercise.
Flax, Sunflower & Sesame Seed Fibre
Lignan-rich blend that feeds gut flora to promote nutrient absorption from supplements and food and functions as a hormonal support for spayed and neutered pets
Creatine     
An amino acid that supports normal cardiovascular, neurological, immune system; antioxidant status; body composition; training and performance support for exercising muscles. Promotes the optimal development of the musculo-skeletal system after physical activity and encourages healthy endurance
MSM (Methylsulfonylmethane)     
Supports healthy muscles and connective tissue recovery and helps deliver nutrients to the joint.
L-Glutamine  
An amino acid that supports immune system and healthy body composition; supports joint tissue structure and provides metabolic support during training and performance
Bromelain
Provides anti-inflammatory activity to support recovery
Chromium  
Supports immune system; normal body composition, and supports glucose metabolism.
Did you know? Wild meat contains 7x more creatine than the domesticated meat product found in modern dog foods. BioSPORT corrects the deficiency to boost performance and for quicker rebound after strenuous exercise.
MEDICINAL INGREDIENTS PER SCOOP (5g)
Creatine Monohydrate
450
mg
Methylsulfonylmethane (MSM)
200
mg
L-Glutamine
185
mg
Fucus vesiculosus (kelp, whole plant)
25
mg
Bromelain (48 GDU)
(Ananas comosus, stem)
20
mg
Chromium (polynicotinate)
5
mcg
NON-MEDICINAL INGREDIENTS
: Certified organic seed cake defatted meal (flax, sunflower, sesame), silica
GMO-Free
DIRECTIONS FOR USE
Administer orally. Mix one half scoop (2.5 g) per 4.5 kg (10 lb) of body weight to a maximum of 6 scoops daily. Add to raw, moist or dry food. If desired, add water to make a gravy-like paste. For best results, divide between two meals.
Scoop included. 1 Scoop = 1 TBSP
| Weight | Daily Serving (scoop) | 400g Supply (days) | 1600g Supply (days) |
| --- | --- | --- | --- |
| 10 lb (4.5 kg) | 1/2 | 160 | 640 |
| 20 lb (9.0 kg) | 1 | 80 | 320 |
| 30 lb (13.5 kg ) | 1 1/2 | 53 | 212 |
| 40 lb (18.0 kg) | 2 | 40 | 160 |
| 50 lb (22.5 kg ) | 2 1/2 | 32 | 128 |
| 60 lb (27.0 kg ) | 3 | 27 | 106 |
| 70 lb (31.5 kg) | 3 1/2 | 23 | 92 |
| 80 lb (36.0 kg ) | 4 | 20 | 80 |
| 90 lb (40.5 kg) | 4 1/2 | 18 | 71 |
| 100 lb (45.0 kg) | 5 | 16 | 64 |
| 110 lb (49.5 kg) | 5 1/2 | 14 | 58 |
| 120 lb (54.0 kg) | 6 | 13 | 53 |
NN.6ST8   Low Risk Veterinary Product (LRVHP) 
Interim Notification Program 
This program is a temporary measure pending the amendment of the Food and Drug Regulations to improve the regulation of low risk veterinarian products (LRVHPs). The INP applies to LRVHPs for sale in Canada that are for use in cats, dogs, and horses that are not intended for food. An LRVHP may only contain substances that are included on the List of Substances, including homeopathic medicines, botanicals, vitamins, minerals, fungi, bacteria, etc.
Companies apply to the INP to obtain a Notification Number (NN). A third party administrative organization reviews the ingredients and the content of the product and label. Upon the satisfaction of the established requirements, a Notification Number (NN) is issued. Participation in the INP is voluntary. Given the INP safeguards, Health Canada considers it unlikely that a product satisfying all applicable requirements could present a significant risk to the health of humans or animals.
https://www.lrvhp.ca/public/docs
Low Risk Veterinary Health Products List of Substances 
The List of Substances (The List) includes substances that have been evaluated as admissible or non-admissible. Admissible substances are substances determined to represent a low risk when used appropriately and according to certain conditions such as route of administration, quantity or duration of use, and in doses at generally accepted safe and effective levels that are supported by available literature. Health Canada considers it unlikely that a product containing only admissible substances and that satisfies all other applicable requirements could present a significant risk to the health of humans or animals. Substances that have been altered through biotechnology and/or intended for use in food producing animals (such as cows, swine and poultry) have not been considered and are excluded from the List of Substances.
https://www.lrvhp.ca/subview/list
LRVHP GMP Guidelines – Good Manufacturing Practices 
This document is intended to provide guidance on the Good Manufacturing Practices (GMP) requirements for a Low Risk Veterinary Product eligible for Notification. The following link is a list of GMP requirements to manufacturers, packagers, labelers, importers or distributors, as the case may be. These requiremets are quite similar to the requirements applicable to Natural Health Products used in humans.
https://www.lrvhp.ca/files/docs/Eng-GMP.2012-03-26.pdfs
BioFIBRE Delivery System—Nutrition Facts 
The delivery system of BioSPORT is a certified organic blend of defatted flax, sunflower and sesame seed providing the good bacteria in the intestinal tract of the dog or cat a valuble prebiotic food source to improve their immune system. This fibre also supplies plant estrogens called lignans that the good bacteria convert into mammalian estrogens balancing hormone function in the dog and cat especially when they have been spayed or neutered.
Each scoop (1 tbsp) will provide at minimum 18 mg of lignans, enough for the Vet recommended amount of 1 mg of lignan per lb of pet weight. By improving the intestinal tract function, immune system, and hormonal function of the dog or cat there is better absorption of the nutrients from the formula as well as from the food they are eating allowing the BioSPORT formula to begin to work in a very short time.
1 Scoop = 1 TBSP
Nutrition Facts
BioSPORT
per 1 scoop
Units
Calories
18.60
cal
Fat
0.84
g

Saturated Fat

0.09
g

Trans Fat

0.0
g

Polyunsaturated Fat

0.59
g

Monounsaturated Fat

0.16
g
Cholesterol
0.0
mg
Sodium
2.26
mg
Carbohydrate
1.18
g

Fibre

1.07
g
Protein
1.59
g
Vitamin A
0.0
IU
Vitamin C
0.0
mg
Calcium
14.67
mg
Iron
0.37
mg
Lignans
18.32
mg
Schnitzel is a 16 lb Dachshund, who had a large section of his intestines removed.  We are still not sure what caused Schnitzel to become very ill, but we have modified his diet, and he seems to be doing very well.
He is eating a diet rich in fish, vegetables. He is also extremely hyper-active, and if some of these products can help him to balance, that would be great.  We had a 400g container and it lasted between 6-8 weeks for him
I have been running him 10KM every day for a couple of weeks right now and he is doing better.
Elayne Crozier
Prospect is a 3 year old mix (Dutch Shepherd x Staffordshire Bull Terrier). He and my other dogs use BioSPORT every day and have seen improvements since we starting using it.
Prospect continues to use your products and keeps improving his performance. Last year his Big Air jumps were 23-25′ in Dock Diving. He is now hitting 25-27′ with a personal best of 27'5″. I anticipate him only getting better.
Prospect was invited to the Purina Incredible Dog Challenge in July. We won the Dock Dogs World Championship with a jump of 29'2″ and just broke the NADD World Record last weekend with a jump of 30'6″. What an incredible year for Prospect & I.
Thank you BiologicVET for your continued support for helping us achieve our goals. We have been using your products for 3 years and every year we get better. This year all of our dreams came true. We got to compete at the Purina Incredible Dog Challenge Eastern Regionals, we took 1st place in Big Air-Super Elite at the Dock Dogs World Championship with a jump of 29'2″ and had a world record jump of 30'6″ at the Eukanuba AKC NADD Championship. To end the year, we already earned invites to the NADD & UAD Championships for 2016.
Looking forward to 2016 & what the future holds.
Shannon Gospodarek